PROGRAM
OPENING
ROBERT P. PERAZA
FATHER OF ROBERT DAVID PERAZA
PERFORMANCE
JOSH GROBAN
WELCOME
STEPHEN COLBERT
MASTER OF CEREMONIES
REMARKS
MAYOR MICHAEL R. BLOOMBERG
PRESENTATION OF LIFETIME ACHIEVEMENT
presented to
PAT AND E. JOHN ROSENWALD, JR.
DINNER
REMARKS
STEPHEN COLBERT
MASTER OF CEREMONIES
PRESENTATION
JOE DANIELS
PRESIDENT AND CHIEF EXECUTIVE OFFICER, 9/11 MEMORIAL & MUSEUM
PRESENTATION OF DISTINCTION IN REBUILDING
presented to
JONATHAN M. TISCH
PRESENTATION OF 2012 GLOBAL PARTNER
presented to
PITNEY BOWES
accepting on behalf of Pitney Bowes
MURRAY D. MARTIN
PERFORMANCE
JOSH GROBAN
CLOSING REMARKS
STEPHEN COLBERT
MASTER OF CEREMONIES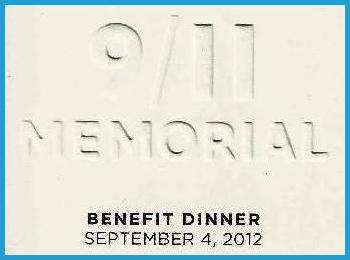 Harriet Goetz Holly Izumi Takamori Lisa Purdon Martha Kotter Teresa Barkley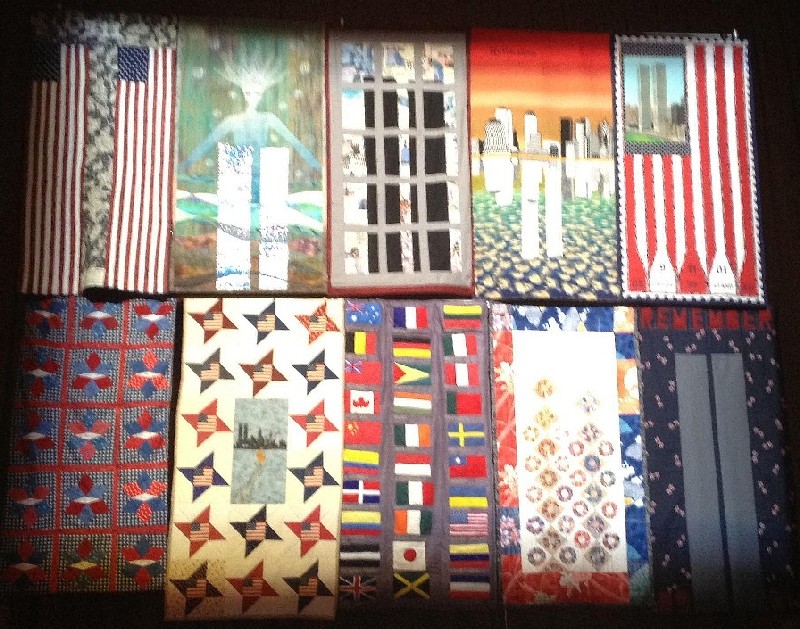 Deborah DeVito Hedgehog Quilters Wilhelmina Schouten Tomoko Hayakawa Drunell Levinson

TONIGHT'S MEZZANINE BACKDROP
SEPTEMBER 11 QUILT PROJECT
Organized by Drunell Levinson
Featured Artists: Teresa Barkley, Deborah DeVito, Tomoko Hayakawa, Harriet Goetz Holly, Hedgehog
Quilters, Martha Kotter. Drunell Levinson, Lisa Purrdon. Wilhelmina Schouten, and Izumi Takamori
On the morning of September 11, 2001, downtown Manhattan resident and fabric artist Drunell Levinson remembers feeling incredulous when she heard that a plane had crashed into the World Trade Center. Like many others, she could not process that reality until she saw the footage on television at her workplace. Ms.Levinson, who lived only a mile from Ground Zero, observed injured survivors and terrified eye witnesses fleeing uptown as she returned to her apartment. Once the depth of the tragedy became apparent, Ms. Levinson felt called to action but was uncertain how to proceed. Not qualified to help with the rescue and recovery effort, and with blood donation centers already glutted with volunteers, she found inspiration after receiving a phone call from a friend and fellow quilter, Sarah Roberts. Fortified by her recent doctorate research at New York University on the history of mourning arts and the creation of the AIDS Memorial Quilt project, Ms. Levinson conceived a September 11 Quilt Memorial that would bring together the work of artists from around the country, "Through mourning," she reflected, "I hoped that the participants and viewers would be enabled to move on and develop a renewed appreciation of life."
Ms. Levinson drew attention to the September 11 Quilts Memorial project through a website calling on volunteers to submit 3' x 6' or 3' x 3' quilt panels. The materials used and the interpretive approach to the notion of a "quilt" were left up to the individual artists. By September 10, 2002, the project consisted of 94 quilts, artists' statements, photographs, memorabilia, emails, a dedicated website, and a 20-minute documentary video entitled "September 11 Quilts: Mending a Diverse Community of Artists." Over the next two years, the quilts were displayed as an ensemble in 14 critically acclaimed exhibitions in the United States as well as a presentat on of the project in Japan. The September 11 Memorial exhibition quilts and supporting materials were officially accessioned into the 9/11 Memorial Museum's permanent collection in February 2007. Tonight, a selection of these quilts are proudly displayed in the mezzanine.




to home page