| | |
| --- | --- |
| | © |
Elia Alba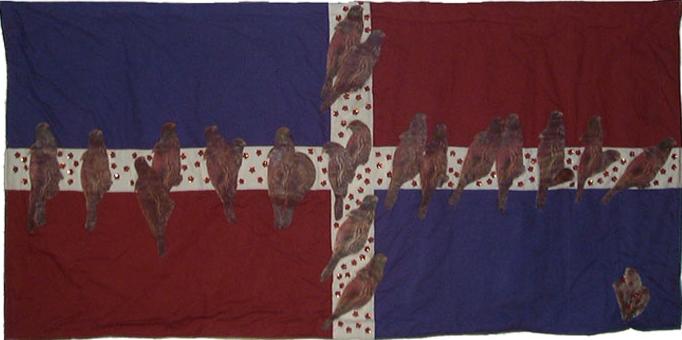 41 Birds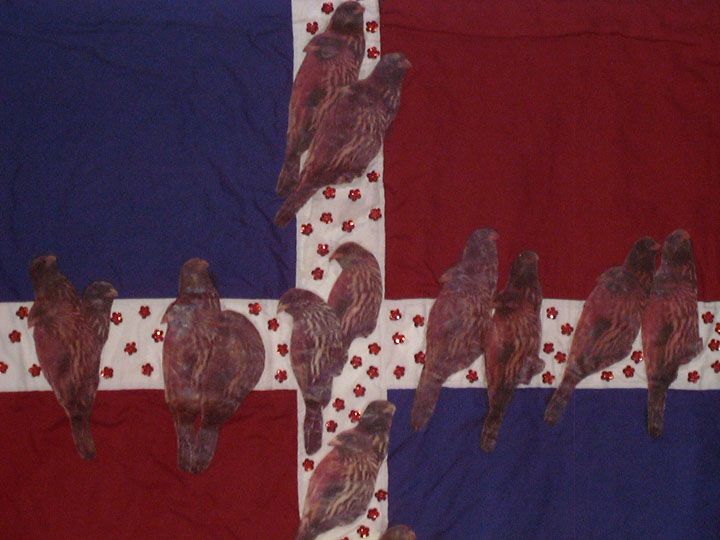 All photos © Drunell Levinson. All rights reserved.



It is estimated that 41 people from the Dominican Republic died at the World Trade Center on September 11th. I am an artist of Dominican heritage, and I wanted to create a quilt that would honor those Dominicans. The quilt is composed of panels that simulate the Dominican flag, on top of which you have birds and flowers, covered with a layer of tulle.

The bird I utilized is called the Palm Chat. It is the national bird of the Dominican Republic, and it is also a bird that is the only member of its genus and family. While there are many birds that are part of the island's landscape, I wanted to use the same bird repeatedly on the flag to metaphorically "identify" the birds as one people. There are 41 birds over the flag representing those who perished, and although you don't see the entire body of each bird, you do see 41 heads. Small red poppy flowers surround the birds. Poppy flowers signify eternal sleep and the ephemeral, yet at the same time, the red color means happiness and desire. The flowers here are not meant to act as mourning flowers but to allegorically symbolize the short-lived lives of those who died and at the same time, through the color, offer a sense of hope and desire for a better future.