| | |
| --- | --- |
| | © |
Cheryl Coulter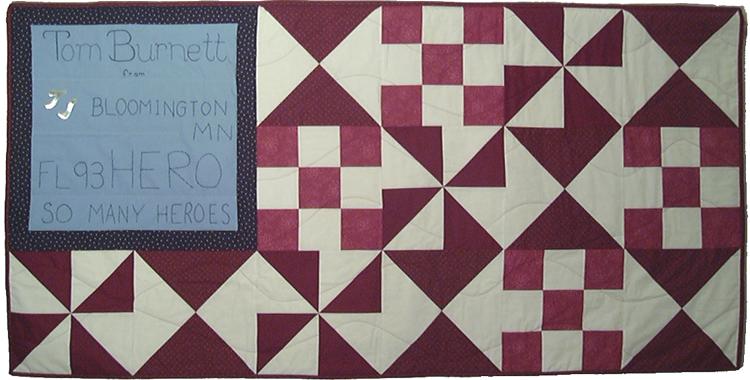 In Memory of Tom Burnett
Photo © Drunell Levinson. All rights reserved.
My Quilt Panel Story is best told in my letter that follows:
Dear Family of Tom Burnett, Jr.,

My deepest sympathy to all of you on the loss of Tom. I hope my letter brings you some comfort.

I am a friend you have not met. I am a Bloomington neighbor just down the hill from your home. I am a mom of a Jefferson High School 10th grader, who plays trumpet in their great marching band. My four children all went to Ridgeview and three have graduated from Jefferson. So when I learned of Tom's tragic death, I felt a loss of one of us, a special Bloomington/Ridgeview/Jefferson guy. That is when I cried on September 11, holding my son who was also crying. "Mom," he said, "Tom Burnett was from Jefferson."

We cried together again when we saw Tom's high school football picture on national TV, with our Jefferson High School in the background. We cried while watching NBC's, "Dateline," when we saw our Ridgeview Elementary in the background. The Jefferson football game on September 14 was especially emotional for me as a parent of another special Jefferson guy. Mr. Burnett, you were in my thoughts throughout the entire game. I was so hoping each time the center snapped the ball to the quarterback, that it would be a fond memory of Tom, as opposed to a pierce of your heart. My son choked up while playing our national anthem on his trumpet before the game. Tom was on his mind, he said.

I am also an avid quilter. As a tribute to Tom and other September 11 heroes, I have made quilt panel to be included in the "September 11 Quilts" memorial in New York. This project is modeled after the AIDS Memorial Quilt project, and the panels will be joined and displayed in a public setting. I have enclosed pictures of the quilt panel I made to honor Tom. I have asked the organizers to send me two invitations to the opening exhibit, one for you.

I will be happy to walk up the hill to your home to show you Tom's quilt panel, if you wish to see it before I send it to New York. I would be honored to meet you. We could talk Jefferson football and marching band, I am sure. You know well how Jefferson football and marching band parents enjoy the games. Out of respect for your privacy, I will not call you. Please feel free to call me any evening at home.

I am enclosing a copy of a verse that I have kept on my refrigerator for several years, so I can read it daily. A friend gave me this verse, when we were dealing with a life-threatening crisis in our family, and it gave me such comfort. I promised myself to share it with others every opportunity I had. It is a great blessing to be close to God during crises.

Please know that my family and I care deeply for all of you at this sad time for your family. And please know our gratitude for Tom. He gave his life for our country, to protect our freedoms. To you, Tom's parents, my heart aches for you because there is no greater loss than the loss of a child. To you, Tom's sisters, may you smile when you remember all the fun you had with your brother. My son has three sisters, and therefore we always say he has four mothers. Can you relate? To you, Deena, Tom's wife, I pray for strength and courage for you, gifts that come only from God. And to you, darling daughters of Tom, your daddy lives on in you. Your laughter will be the greatest gift you can give your mommy and your daddy's family. I hope you are blessed with wonderful schools and teachers like those your daddy had in Bloomington, Minnesota.

To all of you, may you find comfort and peace knowing that Tom has found eternal joy. When I think of Tom, I will always think of that special Bloomington Jefferson guy, just like my son. Thank you for your willingness to allow me to express my grief for Tom and all September 11 victims and heroes with a creative activity, one of my favorites, quilting.

I will close with one of my favorite verses from the Psalms, "The Lord is the strength of my life. Whom shall I fear?"

God Bless You. May your faith and wonderful memories of that great Bloomington Jefferson guy sustain you.