| | |
| --- | --- |
| | © |
Vanessa Pogue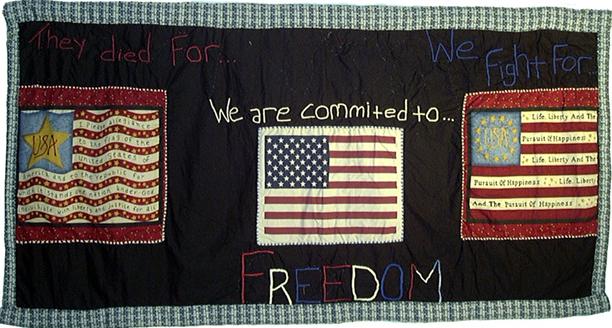 Sept. 11 Tribute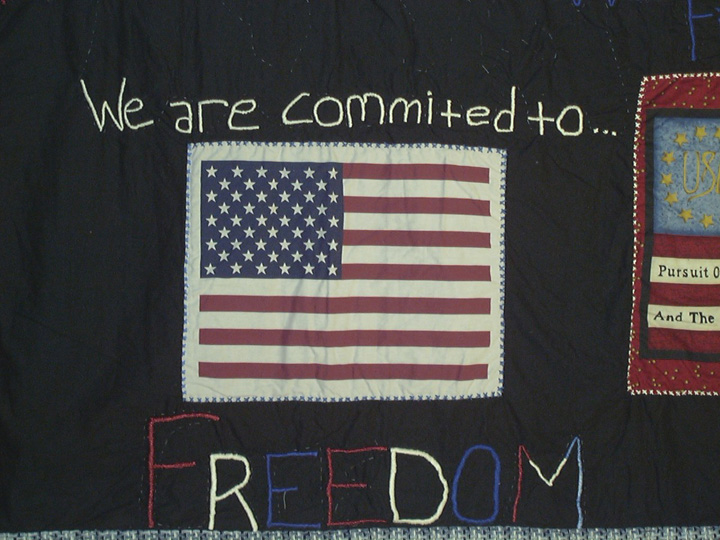 All photos © Drunell Levinson. All rights reserved.



I made the quilt in memory of the folks who perished and were workers of the Port Authority of New York & New Jersey ... I had a close family friend who worked in 1TWC for nearly twenty years. Before the first bombing, when I was home from college for the summer, I would go visit him regularly during my lunch hour. I had many friends who worked there and just loved how beuatiful the view was and what wonderful atmosphere there was. It just seemed that something was always going on in one of the buildings during the summer.

After the first bombing, my friend retired, but I often found myself going to the building to visit others or to attend an event. When I saw the towers crumble, it was very sad, because I harkened back to all the wonderful times I'd had in the complex ... how odd it was that I would go there to be with a friend and find some enjoyment in my day, and that place has become a symbol of great tragedy and devastation.

The quilt allowed me to express my grief and demonstrate the harsh symbolism of the loss of a large part of my youth ... of the safety I felt walking around in that complex ... of the things I took for granted.